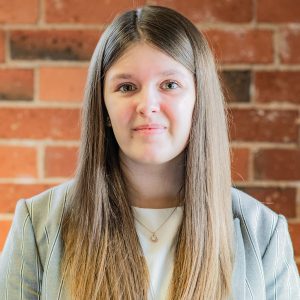 Sian
a Junior Account Manager
Hi, I'm Sian and I'm the Junior Account Manager here at Step. I am currently completing my placement year simultaneously with my second year at university. The fast track course I am studying is called Business Management 1 Year in Company at Nottingham Trent University. I am excited to learn more about recruitment and the amazing work Step does to connect businesses with students.
In my spare time I like to volunteer. I volunteered as a young leader for five years at my local Brownie unit in Somerset. More recently, I have volunteered at a foodbank here in Nottingham.
My guilty pleasure is fizzy drinks – especially Dr Pepper!
One of my top tips would be to remain positive and always believe in yourself, never doubt your skills and capabilities. If you do feel like you have a lack of confidence in an area such as public speaking, try to gain relevant experience to overcome this and feel more confident.
Secondly, only apply for opportunities that you are truly interested in. Take your time to learn everything you possibly can about the business and role. Tailor your application to demonstrate the skills that they are looking for by using a range of different examples. Research is also key when preparing for a telephone or face to face interview.