2020 may well be the year that everything changes. A global pandemic, an economic crisis like none we have seen before in peace time and Britain going it alone outside of the EU combine to make 2020 a uniquely challenging time for employers to plan their talent strategies. So whilst this year's research will pick up on themes from previous years, enabling some direct comparisons, we will be exploring new themes.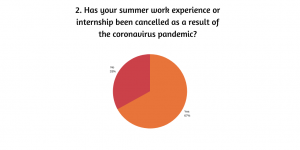 We already know from our survey completed in June that 2 thirds of interns had their experience cancelled due to the pandemic.
We are going to go further and investigate the wider impacts of the pandemic by exploring virtual internships, home working and how the crisis has affected everyone's future plans.
We would love to include your voice in this short survey which should take no more than 5-10 minutes to complete. You can choose to complete it anonymously or leave your details if you wish. The report will be available to download for free at the close of the year and all contributors will be sent a copy first.
Undergraduates, Graduates and Postgraduates can complete the survey here with 5 chances to win a £10 Amazon gift card.
Employers can complete the survey here.
Thank you for your input and we look forward to analysing and sharing our findings with you!