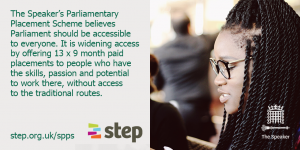 Step worked with the Diversity Team of the House of Commons to manage the recruitment for the 2018, 2019 and 2020 cohorts of the Speaker's Parliamentary Placement Scheme. A high profile social mobility programme, the scheme aims to widen access to parliament by offering paid internships to those people who have the desire to work with an MP but who may not have access to the traditional routes in to such roles.
The Speaker's Parliamentary scheme is not a graduate scheme, rather aims to open up access to people of all ages wishing to embark on a career in politics. During the 3 year's we managed the recruitment for the programme, Step placed between 10 and 13 interns each year ranging from undergraduates looking for sandwich placements, career changers, ex-service people, recent graduates and post graduates.
Our remit was to generate interest in the Speaker's programme, advertise it across various channels and promote across party lines. Each year we generated over 400 applications and supported the Diversity team in house with the behavioural based interview stage. We managed all the shortlisting, interview arrangements with the MPs and looked after the right to work and reference checking for successful applicants.
Here is what one of the 2019 participants had to say about his experience in parliament:
For four years I had juggled my studies with part-time work and excessive extracurriculars in the hopes that my strenuous efforts would pay off.  Instead I watched friends with Banks of Mum and Dad get leapfrogged in to unpaid internships and expensive postgraduate study… I felt that I had worked twice as hard to get half as far.  By the time I saw calls for applications on Twitter I was mere months from graduating and had been roundly rejected by every public service graduate scheme in the country. [Having completed the programme] I feel like I've now seen behind the curtain of the British State and can no longer be intimidated by its elite (and elitist) institutions. (Rhys, 2018/19 participant).
The Speaker's Parlimentary scheme is currently closed but you can visit the parliament website for more information about the scheme and browse our current opportunities.
To find out more about how Step can help you attract a diverse pool of applicants to your internship programme, contact Tamsin Millns at t.millns@step.org.uk