Amber is an Events Management graduate from the University of Hertfordshire. Over summer 2016 she completed a 12-week Event Management graduate internship
In this blog Amber tells us about her experiences, six weeks into her Event Management internship.
Six figure budgets, overnight stays at stately homes and weddings in Italy. This is now the norm in my daily working life. Oh, and most importantly, I have become an Amazon aficionado!
Ask anyone who knows me and they'll tell you how obsessed I am with weddings so to find an internship with weddings at the core, in London, where I've always wanted to work, really was a dream come true.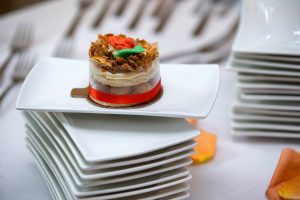 Before I found my internship, I was working for a hotel, which is where I thought I wanted to be after graduating from university. It turned out not to be for me AT ALL.
I found my internship through Step and they briefed me about the host business. I hadn't previously come across the company or the incredible events they put on, but reading through the job description, my eyes lit up and I thought "this is so me". Thankfully, it turned out to be a perfect match at the interview; the fact that me and my line manager both had dachshunds in our families sealed it for both sides I think (there were other factors too!)
I am thankful and so happy that I applied, as it is the best working experience I have had so far. I am immersed in the world of high-end weddings and parties, learning all there is about organising such extravagant events – from going to view flower samples, building guest lists to the more manual work of packing and unpacking boxes upon boxes from deliveries. I have definitely honed my internet searching skills and can find anything and everything, from Tabasco-flavoured jellybeans (who knew there was such a thing) to blow-up elephants (don't ask).
I am constantly telling my friends and family how happy I am. I love the small team I work with; they have taught me so much already and being in Central London (Sloane Square to be exact, which I tell everyone about), where better to gain events experience?  I also work with a wide variety of suppliers from all over the country and they too have taught me so much. Quoting my boss Charlotte, "You will become knowledgeable in the most random of things."
I am half way through my internship and I most definitely do not want it to end.  This is my dream job and I hope to continue in this fascinating industry. I feel like my career is truly taking off.