Aiyanna is a Creative and Professional Writing graduate from the University of South Wales. She has recently secured a permanent role as a Graduate Bid Writer.
Your first full time job as a creative often offers a palette of unavoidable questions: will I become a big corporate sell out? Are my skills up to scratch? Will there be any room for creativity in my new role?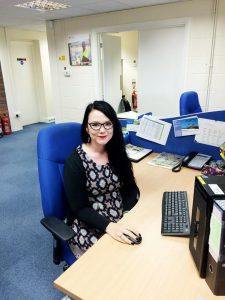 Upon my offer of employment, these fears were lost to an overwhelming feeling of happiness – I'd actually achieved the unthinkable! I wasn't going have to pack it all in, join the circus and turn 60 having never written anything mildly successful in my life.
My role as a Graduate Bid Writer has certainly exceeded my expectations. I am not only writing, but I am developing skills I never thought I'd get the chance to. I am designing advertisements and case studies, interviewing members of staff up and down the country, and I'm supporting community planting days with local nursery school children.
The first task I faced in my role was to master the Adobe programme InDesign, a piece of software that requires a real rocket scientist to figure out.  All those years of reading Shakespeare hadn't prepared me to master angles or predetermine colour schemes. I feared I was 'in' completely over my head.
University may have consisted of long lie-ins and dirty takeaways, but full-time work consists of hundreds of people working together with the same values; driving a company to success. That feeling of being a part of something is unparalleled to anything I've done before. What you contribute can be as small as supporting your team with anecdotes and chocolate cake, or as big as winning the company hundreds of thousands of pounds with your tailored writing skills.
Six months later and I've completed over forty case studies, I've progressed into writing bids and I truly feel like an important part of a big team. And no, all the well-thumbed novels in the world haven't necessarily made it any easier or made me any better at my role, and ahead of me I still have a lifetime of career milestones to overcome.
There is, and always will be, a place for creativity in the workplace, and it is a characteristic that can make you invaluable. Full time work is daunting, exhausting and sometimes terrifying, but without it we can never progress, perform or pursue our passions.  For me, none of it was ever achievable without the upmost support I was offered from Step, and more importantly, the inspirational bid team at my company.