Our recently completed autumn tour was our biggest for some years. We visited many of our frequent partner universities as well as others that we, like an old friend, have lost touch with over the years.
We're always excited to begin and exhausted at the end, and this was truer this year with the added baggage we brought along. We had several new goodies to give away and one giant shoe which was a fantastic conversation starter, but not particularly fun to lug around the streets of Birmingham, Manchester and Sheffield!
Each fair we go to, there are some common themes, questions that crop up from student to student with many shared concerns. Here are some answers to those commonly asked questions.
I'm not sure what I want to do with my career, would an internship be a good option for me?
Absolutely! Employers often offer internships as a trial – sometimes it is a brand-new role they are creating, so they need to see it in action before it becomes permanent. You're fully entitled to see it as a trial as well, a trial for the profession, the industry, the business itself. It will give you an insight which will help you to better decide on where you want to take your career and it will be great for your CV!
Do I need experience to get an internship?
Yes and no. You won't need specific industry experience, as that is one of the primary things an internship is meant to provide. However, that doesn't mean you can rely purely on your degree to get a position. Internship providers will still be looking for your work ethic and your transferable skills. This can be from part-time work in a shop or pub, voluntary work for a local charity, society work like arranging an event and things like keeping up with industry news, completing online courses etc.
When do your placements/internships become available?
Short answer – it varies. Typically, our roles come on later than the top 100 schemes. While you might be encouraged by your university to be applying in the first few weeks of being back at university, we won't get our placements and internships in until close to Christmas and after. It's because the businesses we work with are smaller, they don't have a formally structured scheme, so timelines can change from year to year.
This will be especially beneficial to those who are busy in the autumn term and those who have been unlucky in early applications.
I study this degree, what can I do with it?
Each degree will have several career avenues that you can explore, and we are always delighted to discuss the options that you can consider. TARGETJobs has a wonderful breakdown of career options by degree subjects that's can be a good starting point, and one of the things that they point to is examining your own skills. What transferable skills have you gained from your degree and from your work experience and where might they fit into the workplace.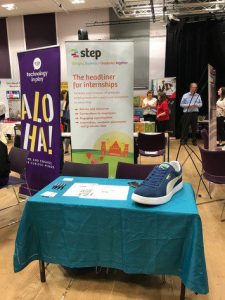 Creative and persuasive writer? You might have a career in copywriting
Great with numbers with an eye for a story? Perhaps data analytics could be for you
Multi-lingual? A career in logistics with an international business might be ideal.
How big is that shoe?
We don't know… It's not real you know, well actually it is real – it's an authentic Puma Suede – but it's not real in the sense that no one has feet that big! We haven't measured it; your guess is as good as ours.