Chris is a Sports Business Management Graduate from Leeds Beckett University. Chris successfully completed a 12-week internship as a Market Researcher with an established manufacturer. He has since been taken on permanently in the role.
After handing in my last piece of work at Leeds Beckett University in May, in sheer desperation to keep my car on the road with an MOT, tax and insurance, I began life as carpet fitter's labourer. It was not my career path of choice and I kept telling myself it was a temporary job whilst I applied for graduate roles, but I seemed to be getting nowhere.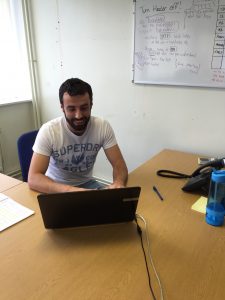 One morning when I was in the carpet van for another 6am start, I came across a voicemail which had been left the day before from Tamsin, telling me about an internship. This came out of the blue to me as I had actually forgotten I had registered my details with Step! To cut a short story even shorter, in the space of 5 days I had gone from a chance voicemail to an interview, to accepting an offer for a 12 week internship! I believe it is imperative to take every chance offered to you and not turn an offer down without serious consideration of your options.
I arrived for my internship open-minded and ready to take on any task. Luckily for me Step and my host business were gracious enough to allow me a recovery day after my graduation and so I officially began my internship at the end of July, easing myself into working life on a Thursday. My second day at work could possibly have been my best ever. Fridays are dress down days where casual attire is allowed in the office. We also finish early on a Friday at 3.30pm. To top it all off, the last Friday of the month is known as free sandwich day, where all employees get a free sandwich. Amazing, I know!
My tasks as a Market Researcher vary from project to project. The initial project I have been set, is increasing the database of potential customers that we can market our new online web sale portal to. I have also been asked to design leaflets and flyers for promotional material as well as create a product price comparison database. I have relished all the tasks I have been set so far as they have challenged me and stretched my skillset. I have learnt a lot from my colleagues, mainly selling, marketing and especially managing customer relations, something that you don't get taught at uni.
I am thoroughly enjoying my time as an intern and the business seem to be enjoying my company as well, as they have asked me to stay on permanently! I have exuberantly accepted. They have also asked me to attend a 3 day trade show in London in a few weeks' times. Very exciting!
P.S. I am still amazed how carpet fitters do what they do, my knees have only just about recovered.