Our guest blog was written by Cherry Mallam, an Information and Communication Technology student from Southampton Solent University. She was placed as a support desk administrator at a software company for her year in industry placement and is now in a permanent position until she goes back to university.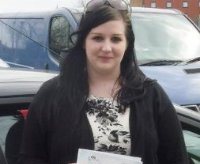 My role is support desk administrator at a software company. The company customises Priority ERP software for businesses. ERP software is enterprise resource planning software (look it up if you are interested, it's worth a read as ERP is such a great and complex idea). 'Priority' is an ERP system which helps a business manage all aspects, including finances, inventory, manufacturing, sales and purchasing. It is fully customizable and flexible.
Our customers have a maintenance contract with us, meaning that if something seems wrong with their system they can get support. That is where I come in. I am mostly responsible for communication with customers and investigating customer problems. I have been involved with other aspects of the business, including training customers and helping the company prepare for a website redesign.
Step were very helpful during the application and interview process. I had a friendly voice at the end of the phone at all STEPS of the process… I have been able to develop all of my skills in this job role, including everything from communication skills to my organisational skills.
I had the opportunity to get stuck in, get involved and learn. I jumped at the chance and managed to succeed. The internship has been such a valuable experience to me and I have now ended up with a long term job from doing this, which is great. I definitely recommend doing an internship through Step as it helps set you up for the future.