Our guest blog is written by Miles Baker, a Law student from University of Warwick, who is currently on an APSCo Placement with Step at Cranberry Panda; a recruitment company that specialises in e-commerce roles based in London
---
When I applied for the APSCo internship programme with Step I wasn't really sure what to expect; recruitment had never really been an area I'd looked at, but the opportunity to see what makes a good candidate would surely be a valuable skill to learn to help me in the future. The guys at Step were great at profiling me and understanding what sort of role I'd be best suited to, and I ended up matching with Cranberry Panda.
Cranberry Panda isn't your average recruitment firm (you can probably tell from the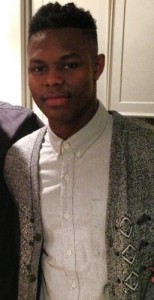 name) and even from my first visit to 'Panda Towers' I was taken in by the company ethos and values of prioritising excellent service to clients and candidates. Most of the team at Cranberry Panda come from an e-commerce background with different area specialisms and I remember wondering at the beginning how I was going to learn everything without that experience myself; however the team has been great in getting me up to speed, and every day I'm learning new tips and tricks to take forward. I started within the company as a resourcer, finding and profiling candidates for roles, though as time has progressed I have been given more and more responsibilities and I hope to say at the end of my internship that I have completed the full 360 process of placing a candidate.
The main highlight of my time with Cranberry Panda was attending their annual salary review party and getting a chance to network with e-commerce professionals and clients in an informal setting. This was a great experience for me to hear more about the recruitment industry and how Cranberry Panda is viewed in comparison to other companies; further affirming that I'd made the right choice in undertaking this opportunity. In true Cranberry Panda fashion this wasn't your average networking event, and after a few hours (and drinks!) I found myself engaged in an intense game of beer pong with my colleagues and their candidates.
My main objective when applying for the APSCo Intern programme was a desire to understand what it is that employers and recruiters look for in candidates, hoping it would help me polish my own CV and become a more attractive candidate. However looking back over my time at Cranberry Panda, that is just a small percentage of what I've learned and I honestly cannot put a value over the knowledge I have gained. Though recruitment might not be where you see yourself in the future, what it gives you is an insight and overview into an industry or sector that would usually take years of working within a role to gain (which is great if you're like me and still unsure what you want to do in the future).