Lexi is a 2nd year psychology undergraduate from the University of Leeds. Over summer 2016 she completed an IPA AdMission internship as a Programmatic Trader with Mindshare, a leading media agency who've worked on advertising campaigns for the likes of Three, Unilever and Jaguar 
In this blog Lexi tells us about the skills and experience she gained from her Programmatic Trader internship with Mindshare UK.
Working as a programmatic intern at Mindshare UK has been a multitude of things, and boring is
not one of them! Immediately I was thrown into the deep end and required to present a week's worth of new knowledge to my line manager about all things programmatic! Having had only a week's advertising work experience prior to my internship, I was extremely nervous, not only about  the information being almost foreign to me but also having to present it to a professional. I was a little rusty and made the rookie error of reading from the script. Nonetheless, I was given the support and positive feedback to be confident and assured in the information I was conveying.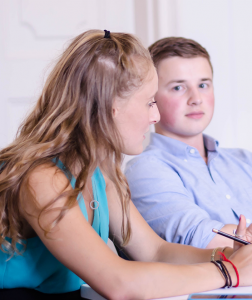 In following presentations, I felt more and more confident in the information I was learning and sharing. With the programmatic trading area so novel to me, it required a lot of listening and sharing of ideas. This has meant that I've been able to develop my communication skills, which I can carry with me to into my final year at university and as well as my future career. Additionally, I got to participate in Microsoft Excel and PowerPoint workshops to further improve my skills. The skills I gained from these workshops are hugely transferrable and are sure to be vital in any discipline.
Although my work has been very rewarding in terms of responsibility and professional growth, I have also had the opportunity to meet some incredible people and gain insight from their career experiences. At Mindshare and within the advertising sector as a whole, there are many opportunities to attend social events. In these 8 weeks alone, I've been lucky enough to attend two rooftop bar events and a summer party. It really is true what they say: work hard, play hard.
It's refreshing to be rewarded with fantastic opportunities, such as BuzzFeed, SpaceNK and LinkedIn sharing mornings in the office with us. These experiences allowed me to learn about extremely successful brands and the people behind them. Additionally, I was lucky enough to be shown around Google's offices and meet the creative minds that drive such a globally successful company!
Step and the IPA have been really helpful in coordinating activities for all the interns and have given us the chance to share the experiences we've had across all participating agencies.
All in all, I am so grateful to have been given this opportunity. I'm sure this experience will aid me throughout my career and in my personal progression, as I continue to pursue my ambitions within the advertising sector. For that reason, I'd like to thank Step and the IPA for transforming an extremely indecisive psychology student into an ambitious programmatic trader!