Altif is a Computing student from the University of Huddersfield. He has recently completed an IT Sandwich Placement with PUMA.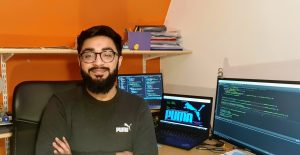 The reason why I applied to Puma was because I felt that I could gain valuable industry knowledge with a global company/brand. I also liked Puma's ethos and their stance on sustainability. When I came to the interview, I really liked the "Puma vibe" this made me more enthusiastic about the role. When I was applying for placements, I didn't really have a specific role in mind just a role based in IT. My role at Puma was based within the Software development team. It was mainly coding based which ended up suiting me quite well. Working with software made me realise where my skills were most suited and gave me an idea as to what I would like to do as a career. I even developed some ideas for my final year project.
My placement journey was quite a long one, I applied to 27 companies and in the end I had 7 interviews. The application process for Puma was relaxed in comparison to other companies which reflected Puma's work environment. The application process consisted of an initial application form with a personal statement, a phone interview and a final interview at one of Pumas offices. Each stage was focused around my strengths and how I would fit within the team. During the interview, I was also able to chat with the current intern and hear his experiences.  Step was very helpful throughout the process, guiding me on how I could strengthen my application by focusing on my most relevant experience and skills.
My role mainly consisted with bugfixes and adding new features on Puma's ERP system as well as Puma's internal website the PumaVillage. These two systems formed part of Puma's key IT infrastructure. One of the biggest projects I worked on was the software needed for Puma's new warehouse. The new warehouse was semiautomated and used a conveyor system, my task was to help develop software that would communicate with the conveyor system over TCP/IP sockets.
The role required a few different skills with a mix of soft and technical skills. The most important soft skill was being adaptable as the team was quite small so there was a lot to learn and the tasks varied.
As well as the technical aspects of the role I also got to experience strong leadership and teamwork from other staff within the department. It was great to be apart of this project as I was able to develop an understanding of the business and logistical sides to Puma's distribution network.
During the start of my placement, I was given an extensive induction to Puma and was given the chance to visit Puma's London office. I got to meet with some of the other new starters, which was nice and made me feel welcomed. My placement overlapped with the last intern's placement, so I spent a few months learning from him and working alongside him. We worked together on a project which helped me ease into the role. I was also invited down to London for an intern's meal with the general manager and the head of HR.
Towards the end of my placement I worked from home as a consequence of the coronavirus. Working from home was very different for me as I preferred the office. The team were always helpful if I had any questions, I could drop them an email or message. I had daily online meetings with the other members of the IT team, this really helped. Working from home also helped me develop more confidence when working on tasks as I had to take more initiative.
I really enjoyed my time at Puma I have learnt more than I thought I would, and I have gained valuable industry knowledge. I have also had the opportunity to work with technologies and coding languages widely used in industry, which I feel will definitely help me when applying for graduate jobs.
My advice to anyone applying to placements/internships is to always do your research on a company before you apply it might seem cumbersome, but it will help when writing cover letters and during the interview process. Lastly, I would say to use this application process as a learning experience as it will come in handy for any graduate opportunities you may apply for in the future.