Our guest blog is written by James Grey, who has completed post-graduate study in Economics and Policy of Energy and the Environment, and also has an undergraduate degree in European Social and Political Studies from UCL. He recently completed a Renewable Energy Internship via our partners WEXO, at a company that invest in and manage renewable energy projects throughout the UK.
---
I didn't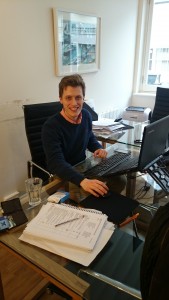 have any concrete career aspirations before attending university beyond a preference for working in policy, hence my undergraduate degree in European Social and Political Studies at UCL. During my time at university, I became more and more interested in the energy and environmental sectors and as such, pursued a postgraduate degree in Economics and Policy of Energy and the Environment, also at UCL. I still had a desire to work in policy but was also open to working more generally within the energy sector.
I was able to organize a fair few internships and work experience placements during my time at university which has certainly enabled me to find work elsewhere. I was also lucky enough to have been offered a job at a consultancy during my final year at university (a graduate scheme) which I accepted. However, my role doesn't begin for a few months so coming out of university I had 9 months to fill and I wanted to fill it with relevant work experience. I was offered an internship immediately at a large steel producing company as a result of my postgraduate thesis – I interviewed with their head of public affairs who offered me the opportunity to work with them for a couple of months.
After my first internship finished I went about looking for other internship opportunities, mainly looking online. At the same time I worked for a catering company to generate an income. I eventually came across my present internship with a renewable energy company on a site called WEXO for which I applied, interviewed and was subsequently offered the job.
Coming into the job I was told that my work would be varied and that it was difficult for them to pinpoint what exactly I would be doing as new things pop up all the time. They have certainly been true to their word and I have fulfilled various tasks in my time here ranging from standard administrative and research tasks to helping with their various projects and financial modelling. I feel the tasks have been appropriate considering it is a small but dynamic company and have enjoyed the increasing responsibility given to me.
The advice that I would give to other graduates would be:
Properly research the firm pre-placement as preparation is key.
Adapt to your environment – different companies have different work practices and social environments so do your best to fit in.
If you find yourself with nothing to do, ask for work, it'll only benefit you in the long run.
Embrace any responsibility given to you, it is a chance for you to impress.
Don't be afraid to ask questions.
Apply for internships! Anything is better than nothing.
As I've already mentioned, I am moving to a much larger company in the near future and so comparing the work environment between the two companies will help direct whether I want to work for a larger or smaller firm in the long term.
I have been exposed to a number of different areas within which the company operates and have learnt a great deal about the renewable energy sector. It was great that the internship was paid, and it did influence me more into applying for it as I find the notion of an unpaid internship to be incredibly unfair. My immediate plan is to spend at least 2 years with the firm I am about to join, within their resources & utility departments. In the long term I would like to found and manage my own company. As such, working for such a young company has been an extremely useful experience.