Rosie is a Fashion Marketing student from The University of Manchester. She has recently completed her placement year as a Merchandiser with PUMA UK.
When looking for where to do placement for a year, Rosie's main goal was to find a company in the world of fashion, as well as somewhere which would allow her to show her creative side. PUMA was just the place she was looking for. PUMA is one of the world's leading sport lifestyle companies, designing and developing footwear, apparel, and accessories. Rosie joined PUMA as a Merchandiser.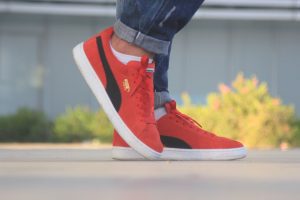 Being a consumer of PUMA products herself, the thought of getting involved with the innovative brand, made her strive even more towards the role. Rosie's passion and determination, alongside some guidance from Step, was reflected in her successfully getting the role. "Step kept me up to date about the role each step of the way".
Rosie was enthusiastic from the get-go, eager to demonstrate her strong understanding of the expectations associated with the brand and ready to start her role in the fast-paced environment at PUMA. So far, she has utilised her creative side by working on new products, setting them up in showrooms, in London and Manchester, before several launch events. Rosie has also touched on the more analytical side of Merchandising, by working with databases, giving her to gain a greater understanding of this multi-faceted role. In doing this, she now understands just how significant the Merchandising team are, "The Sales and Marketing Team can't get on with their jobs until we start ours – we are the starting point".
Rosie's determination ensured that she soon got the hang of how things operated in her new work environment, "The new systems were hard to get my head around at first but I guess that's the same as in most jobs." She is particularly grateful to have gained more confidence in Excel and recognises the fact that this is a key transferable skill which will help her in the future.
Rosie also got the chance to attend PUMA's exciting seasonal launch, Go Live, a biannual event lasting up to five days. Presentations are held in showrooms during the day to talk through the products and in the evenings there are events that the whole company takes part in. The event this past October, which Rosie took part in, included a Halloween party and a tour around a Football museum.  "It's a really amazing thing to get invited to as the whole company gets together and enjoys the event together. It's made even better seeing all the hard work we've done in the months leading up to the event, finally being showcased to everyone."
Haven't completed the placement with Puma, Rosie will now head back to university to finish her final year. "Everything I have learned so far has been relevant to my course, it will definitely help me when completing my final year. It has also given me more of an understanding of what I would like to do in the future. "