With so much competition for graduate roles, work history can be as important as the theoretical degree based work. A graduate with a first but no work experience may not be as attractive an option to many employers as one with a 2:1 who has experienced a working environment.
I firmly believe that some kind of strategic careers guidance should be embedded in the curriculum of all University courses early in the first year, but that's another story.
If you are going into your first year then I would strongly recommend starting to think about how your CV will look when you graduate – even if you are not sure what you want to do yet. Most employers would like to see some kind of work experience, to show that you have adapted to the working environment, as well as the academic one.
The ideal CV may now read: part-time job during term-time, then a Summer internship, then a year-long industrial sandwich placement and perhaps also some voluntary work. Not everyone will have all this experience, for instance some degrees don't have a placement year, but you should try and get as much work experience as you can.
Many students work in part-time jobs whilst studying in order to support themselves, and I know of some  who have not added these to their CV as they did not feel it was relevant, but I don't agree – be proud of the work that you did, and draw on the experience. This work can be from a variety of roles: retail, catering, call-centres and many more. As an example, when I was a betting shop Manager I employed many students in part-time roles, and I saw them grow in confidence and demonstrate a real work ethic – both of which are going to be a real advantage in most careers. Part-time work can be very useful in providing a grounding in a variety of skills that are essential to a future career, and is a rich source of answers to competency based interview questions.
Even if you don't need the money, perhaps due to parental support, I would recommend getting some kind of work experience. I know of graduates who were asked by potential employers why they had not worked during University, and the answer that they did not need to was not positively received. Whether justified or not, there can be a doubt from employers as to whether those without work experience can adapt to a working life – even things like getting to work on time. Those who have worked can demonstrate they have adapted – and can back this up with an employer reference (assuming that all went well).
If you are going into your second year you may be starting to think about what long-term career plans; looking for some kind of related work, for instance a Summer internship, will go a long way to helping with this: you can gain valuable experience and development in a project based role of 8 or 12 weeks, whilst providing a significant contribution to the employer – these internships are meaningful assignments and look fantastic on a CV.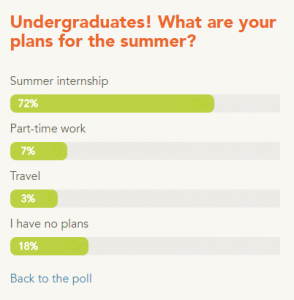 In April we carried out a study of Undergraduates and asked them what they were planning to do for the Summer. A very healthy 72% were planning on doing a Summer internship, which is great to see- though the competition for the internships is always hot, so for those who are not successful, I would recommend doing some other kind of work over the Summer.
If you have just graduated and don't have any work experience yet, don't panic:  you can still look at doing voluntary work; or work shadowing is another option to consider, particularly for those who are looking to gain some vocational work experience.
You should also be able to access some very useful help and guidance from your University's careers service – including how to formulate answers to a range of interview questions, drawing on your life experience – and how to handle potentially tough questions about your lack of experience compared to others.