Daniel is a Computer Science student from the University of Huddersfield. He has recently completed an IT Sandwich Placement with PUMA.
When Daniel came across the job advert for the IT sandwich placement with PUMA, he knew it was exactly what he was looking for. The role had a focus on programming, which was attractive for Daniel and the concept of working for a large company made him even more eager about getting the job.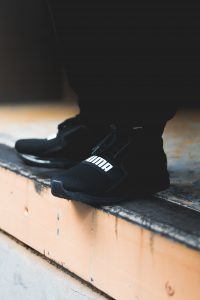 "The application and interview process between Step and PUMA was so much easier than expected. I frequently received constructive feedback and I am a lot more confident about applying for future roles now". Daniel was successful in getting the role and soon joined the fast-paced environment of Puma.
"I was doing what everyone else was doing surprisingly!" Daniel said when asked what he got on with on a day to day basis. Daniel initially thought that it would take time for him to really get involved, due to the international nature of Puma. However, Daniel immediately got stuck-in and started making an impact.
Daniel's role involved pulling data from back-end sources and producing reports for the financial department. During his placement, Daniel created a program which ensures all product details are accurate, telling you what needs fixing and where. This was an efficient system that prevents bigger problems manifesting, later on down the line.
As part of his role Daniel was invited to go to an important meeting in Manchester with the PUMA UK General Manager, "the office was really cool – I've felt really involved since being here". Daniel also had the chance to go to the company's launch event, GoLive, where they announced that Selena Gomez was one of the new faces of PUMA, "It was really cool!"
Daniel's time at PUMA has taught him a lot which will no doubt help him when he returns to university to complete his final year, "I have learnt how to prioritise deadlines as well as the importance of documentation".
PUMA was highly appreciative of Daniel's hard work, so much so, that they have extended his placement for an extra few months before his return to university.  Daniel continued to excel in his role with Puma and further developed his knowledge, which will no doubt be of benefit to his final year of university.