Our guest blog is written by Rebecca Hall , a Geography graduate from the University of Aberdeen, who is currently on a Business Co – Ordinator internship via Step with a marketing and management consultancy based in North Yorkshire.
---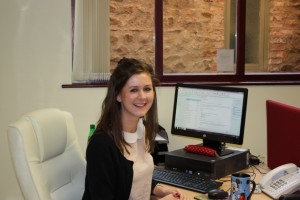 I secured a three month Graduate Business Co-Ordinator internship via Step with an established marketing and management consultancy.  The company is also a national training provider for land based industries covering a diverse range of activities including:  driving, health and safety, plant and machinery, environment and conservation, forestry and arboriculture and ground care. Here's my Step Story!
I graduated from the University of Aberdeen with a MA in Geography in 2013 and I took some time 'figuring out my life'. Being interested in the renewable energy industry I thought by working for a training company that works alongside environmental bodies would broaden my knowledge of the sector as a whole.
I applied for the internship online, completing my Step profile as required. I didn't expect to be contacted so quickly, but I was by the lovely Angela, who was very helpful and so funny! Angela gave me some useful tips to tweek my personal statement for the role then it was sent off. It wasn't that long until I got another phone call from Step saying the company wanted to see me for an interview and that I was up against just one other candidate.  It all happened so quickly after that. I had the interview in the morning and then Angela called me in the afternoon to say that I had been offered the internship. My initial reaction was to scream down the phone to her, I think I might have deafened her, sorry about that!
During the first couple of weeks I was introduced to all the staff, who are the friendliest bunch of people I have met. I learnt quickly what the company did and in particular where to find information on their databases. I was thrown in the deep literally. But I settled in really quickly and feel I have been here for a lot longer than six weeks.
My daily routine varies which makes each day that little bit more exciting and of course really useful experience to add to my CV. I have worked closely with the Business Development Manager undertaking research and creating spreadsheets to build up a database of instructors across the UK and helping the marketing team by researching construction companies in North Yorkshire.
I also have the responsibility of updating the LinkedIn page in order to increase the network which is the type of marketing I really enjoy because it spreads our name nationally.
I have attended team meetings which has been really useful because it helped my understanding of the ins and outs of the company.
My knowledge of working in a small office environment will be invaluable for future jobs and I am glad that I applied for the internship.
Thank you Angela and KNW!