Anna is a Business Management graduate from Cardiff University. She recently completed an internship at one of the leading players in the global shipping industry.
Anna discovered a strong interest in logistics, operations and supply chain management whilst studying modules in those areas at university and so when she came across an internship that captured all these areas, it instantly stood out. The role highlighted the significance of the customer receiving the right product where and when they want it, whilst also maintaining an efficient and lean supply chain as well as the continuing pressures of the rapid evolution of technology across operations.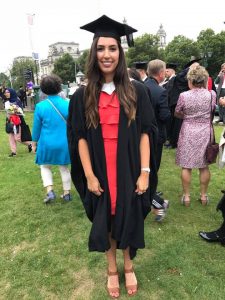 The role seemed to tick all the boxes for her and with her mum also working in the shipping industry, she was able to ask questions about what to expect, which made the internship all the more appealing.
Due to where Anna is located, it has always proved tricky finding an internship that would be easy to travel to, whilst also fitting her interests. Her travel to work for this role wouldn't be short but Anna did not let the commute put her off and she was successful in getting the role, "Step's help was amazing".
As soon as Anna started she was getting stuck in: "When I first arrived, there was a task set up for me." This was perfect for her, as she's always had a proactive attitude to work. Anna got involved with different things on a day to day basis, from analysing reports to pulling out information from various databases all whilst looking for trends within the operations departments. She soon developed a better understanding of the business, and while new tasks still presented a challenge, she learned a lot with the help of her colleagues from different departments.  Traveling to the internship, as expected, was also sometimes challenging, however, with her determination and passion for the role she persevered and completed her internship. She then received an offer for a permanent role with the company!
Anna's internship emphasized the significant role that Excel can play in a business and how having strong knowledge of Excel functions can be vital. Her internship ultimately highlighted her passion for analytics in business and she is confident that, that is where her future lies.