According to our June poll, 18% of respondents suggested they would find a graduate role within one month.  I like your attitude, to use an old cliché, you miss 100% of the shots you don't take.  However, of the 45% of you who think it will take six months or more, at Step we have ways of helping you expedite that process.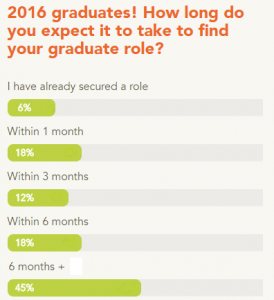 It's fair to say given the uncertainties brought about by the UK's decision to leave the EU, that it may now prove a bit more difficult to find that initial permanent graduate role. Businesses may be more cautious about where they are diverting their funds, which could impact on the number of entry level graduate roles available and so competition will be more fierce. But one thing that has always been a good first step for graduates, and now potentially an even more attractive proposition for businesses, is an internship.
Internships can be a good choice for a fresh graduate still considering their career options. A fixed-term internship gives you the chance to discover a sector, to trial an individual business and to explore the role itself. In the same way, internships allow a business to access graduate level skills to complete a defined project, or to test out a new role or to trial the intern before making a permanent job offer.  In short internships offer flexibility to both parties.
So how can an internship help a new graduate secure a permanent position within six months?
As just mentioned, many internships are offered with a view to turning permanent, if the internship works out for both parties. 80% of Step's short term internships convert into permanent graduate roles, so be sure to consider an internship even if your ultimate goal is to secure a permanent position.
And even if the internship ends after 12 weeks, you will still have gained valuable and relevant experience to add to your CV and enhance your future chances. You could have completed a project that will give you a great reference point in your next interview.  You will have been exposed to new contacts and networks opening up valuable new channels through which to explore future job opportunities.
That's not to say finding an internship role won't take time.  Like any challenge, you need to approach your search in a planned and logical way.  Check out our Advice and Resource page to help you and with a touch of luck you shouldn't be waiting six months to find a graduate level role. And if you don't find the answers there, contact me using the #firstep on Twitter or Facebook. We may be able to offer some reassurance without bombarding you with more percentages.