Our guest blog is written by Ailsa Cartledge, a French & Business Management undergraduate from the University of Sheffield who is currently on a French Speaking Sales Administrator Step placement at Smart Solar;  a leading trade supplier of solar consumer products located in Abingdon, Oxfordshire.
---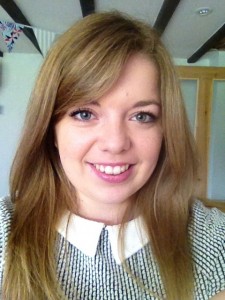 Where do I start with talking about my Step placement? Well to begin with I'm interning at a company called Smart Solar, a company specialising in solar powered products not only in the UK but in France, Germany and America. Before I had even applied for this internship I had just come back from living in France for 7 months and was hoping to find a job where I could speak French, and voila! Step found me one!
My role is a French Speaking Sales Administrator, although I think my role is much more than that having now spent nearly 2 months there. My daily duties are processing orders, supporting the sales team and being a port of call for the company's customers in France. These I would say are tasks I do every day but no day has been the same since I started. For example my boss was away for probably a total of 3 weeks so I was in charge of the French side of the company which meant talking to clients on the phone (in French of course!), making sure orders were being delivered and responding to any queries from the agents/customers. Like everything the first few phone calls were a bit nerve-racking but then after a while I really enjoyed having the responsibility and being able to deal with the demands. This didn't start until I had been there for a few weeks so I had a better understanding of the products but I'm so glad my boss felt that I could handle the responsibility.
French & Business
Talking on the phone in French is always harder I think than face-to-face but my confidence has since grown from being put into the deep end and having to take the calls. Not only have I been helping out the sales team but I've also spent time working in Marketing. Smart Solar is releasing a brand new range so I've been helping out the marketing team to ensure deadlines are met, for example sending the 2015 catalogue to print. This has been really interesting to see all the stages the team have to do to get the finished product.
I study French and Business at University and so this internship I believe has given me the best of both worlds, I'm even starting to learn business words in French which is great! Apart from the responsibility I've been given I think one of my highlights has been the fact they don't want me to leave (according to my team apparently you go to university to get a job but I'll already have one so I may as well stay!) which makes me really appreciate the opportunity I was given through Step. There's so much competition for internships these days and I'm so glad Step helped me find one. At the time it was a choice of interning at Smart Solar or taking a job in France and I don't regret at all taking this internship.
For anyone wanting to get the most out of their internship my advice would be to show you want to take responsibility. I was worried about how much French I would actually be speaking but after getting to grips with how things run at the company, responsibility is exactly what I got given i.e. speaking with clients, sending product information across and processing orders by myself. To think I'm finishing at Smart Solar in four weeks is crazy. Time has flown by but it's been a great experience and I've gained so many more skills from it. As the chief executive would say "the future's smart!".