Looking for a career in marketing but not sure which route to explore and what you're career will eventually look like? This blog will give you an example of one of the many varied career options that marketing can present to you.
Name: Catalina Balan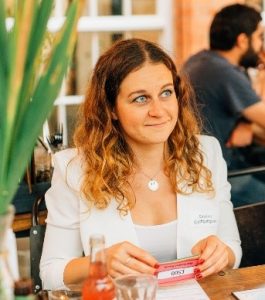 University: Goldsmiths University of London
Course: MA, Cultural and Creative Entrepreneurship
Year of graduation: 2012
Job title: Digital Acquisition Manager
Catalina is a Digital Acquisition Manager at giffgaff gameplan. Catalina's focus is on getting giffgaff gameplan's services viewed by the right people and making sure their members are seeing the products that matter to them. Find out where Catalina's career journey has taken her so far, and what advice she has to share with us.
Can you explain a bit about your current role?
My role is to make sure that we're using the right mix of media channels to help giffgaff gameplan members understand our proposition and use our services. One of the main elements of my role is being creative about how we approach our potential members and how they interact with the gameplan brand online, and I often approach this by analysing various data points to understand user behaviour and marketing efficiency. I'm also often working with different business units to improve the member experience.
Talk us through a typical day in your current role
I don't have much of a 'typical' day, as I can be doing anything from gathering insights to briefing a copywriter on a new offer. My main focus at the moment is integrating giffgaff gameplan with the wider giffgaff member base and we are also working on creating a launch strategy that will ensure we attract new members.
How has your career developed to get you to where you are today?
I've had varied roles, but I have always made sure I have learned everything I could along the way. I was always curious and driven to understand everything that could impact my day-to-day. Also, I always made sure I had friends in all business departments as it was really important for me to understand how everything came together.
My only other secret has been to put myself in new work environments that forced me to learn and develop new skills.
What challenges have you had to overcome?
A challenge that I personally learned to overcome early on has been to never take failure as a negative experience. Regardless of the outcome, I've always learned something and I've always kept on moving. I think it is important to acknowledge mistakes, but make sure you always see the bright side.
How was your experience at Goldsmiths University of London?
Goldsmiths has been a great opportunity for me to learn from creative people and be exposed to an array of methods that have taught me to think outside the box. I've always appreciated the fact that we were continuously encouraged to have a different viewpoint and that the teaching methods were quite innovative.
The staff were always supportive and helpful, and I felt like our opinions mattered. From the interview stage to finalising the course, the dedicated lecturers made sure that we got the most out of our time at university
What are your career highlights to date?
For me, the most important thing I have achieved is meeting and getting inspired by some amazing people. There have been business and personal successes along the way, but the people I've met and friends I've made have been so much more valued.
Do you have any advice for others?
Work hard, learn as much as you can, stay true to yourself and, most importantly, make sure you are happy. Dreading going into work should be avoided at all costs.
Click here to find out more about giffgaff gameplan.