Drew is the Head of Data Engineering at Lynchpin – a customer analytics consultancy. Lynchpin deliver valuable insight to their clients to help them understand their customers and deliver better experiences, products and marketing. Their impressive and diverse client list boasts international and UK based firms, including: MTV, Ticketmaster, HSBC, Nationwide, Emirates, Edinburgh Airport, Hotel Chocolat, John Lewis and Carphone Warehouse.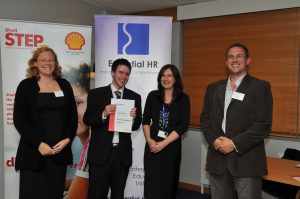 I was studying Software Engineering at Heriot Watt University in 2008 when I undertook a 3-month Step placement with Lynchpin. My placement focused on the development of user behaviour data collection within rich media (a then emerging technology) which was adopted by the business soon after and rolled out as a service across their clients. My Step placement won the Lothian, Borders and Fife final in Step's search for the UK's most enterprising student.
I greatly appreciated the opportunity I was given by Step almost 10 years ago, it helped me slingshot my career and the contacts I made led into subsequent summer placements, contract jobs and graduate opportunities. I re-joined Lynchpin in 2011 as Information Systems Manager and was immediately placed on several blue-chip accounts.
Over the last 6 years the company has expanded, including opening a London office and with that my role has changed. I now lead a team of qualified Data Engineers in a goal to deliver the best information, insight and recommendations to our customers through advanced data science methods.
I still remember my trepidation walking into my interview with Lynchpin wearing an ill-fitting suit and carrying a massive 17" laptop with examples of my website and software development. I certainly wouldn't have believed someone telling me I would be running a department there in under 10 years.
My advice to any undergraduate would be to take the leap, get your name out there and take the fantastic support which organisations like Step offer. Be prepared for your interviews; in particular research the company and personalise your CV/Step profile for the role. Lastly, if you aren't accepted for a role, don't take it personally – remain professional, ask for feedback and continue on your search!
You can find more information about Lynchpin's customer analytics services at www.lynchpin.com