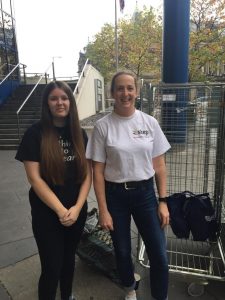 This week some of the Step team volunteered collecting donations for Sharewear at the WE Day community event in Nottingham.  Although we are only a small team it is important for us to help make an impact in the community.  The WE charity aims to educate and empower young people to bring about positive change in themselves and the community. They also aim to equip young people with the skills, knowledge and motivation to prepare themselves for university and beyond. As we operate in the higher education sector it has always been important to us to provide whatever support we can to young people.  So, after hearing about the great work the WE charity does to empower young people we were keen to get involved!
To celebrate the actions of young people from local schools in Nottingham the children were invited to a celebratory concert featuring world-renowned speakers and A-list performers. The children were asked to bring either a food or clothing donation. The step team volunteered collecting clothing donations for an amazing charity called Sharewear. Sharewear provides emergency clothing, shoes and bedding to people of all ages in Nottinghamshire and Derbyshire. They not only provide clothing to the homeless but to anyone in a crisis through referrals. By providing clothes to those in need Sharewear are having a massive impact on people's lives. With the supply of clothing people are able to; attend interviews leading to work and training, send their children to school, have a supply of clothes to go to work until they get out of debt, keep warm, dry and healthy.
Volunteering can help make a positive difference in your community and equip you with transferable skills for your CV. For example, balancing volunteering with full time education and possibly a part time job can demonstrate your time management skills. It can also help to develop your team working and communication skills. If you have already completed some sort of voluntary work, be proud of this and make sure you include this on your CV. If you haven't, I would encourage you to look into possible opportunities in your local area. This would add something tangible to your CV which can be drawn upon in interviews whilst also giving back to the community.
Information can be found here if you would like to donate to the Sharewear clothing scheme