Eliza is a Fashion Buying and Merchandising student from Manchester Metropolitan University. She is currently undertaking her placement year with Puma UK as a Merchandising Intern.
At the beginning of my journey, in securing for my placement year, I had a very specific idea of what I wanted to do. I have always wanted to work within sportswear and therefore, Puma UK seemed like the obvious choice. Unlike competitor brands, Puma offered a full 12-month placement, compared to others offering 6 months which would have meant finding a second placement before returning to university. This, for me, wasn't the right option as I felt I would learn more in one full 12-month placements than two shorter ones.
Puma's mottos resonated with me, I was already a Puma consumer and, as I am passionate about creating a more sustainable fashion industry, it was important that I worked for a company taking steps towards this.
The application process was fairly long, more so for me as I applied as soon as the programme opened! However, Step made this process very easy and kept me up-to-date throughout – from application to job offer.
The application process mirrored the Puma office environment as it is focussed on strengths and on getting the most out of the experience for both, you and the company. This means that the process is fairly relaxed, which helped me showcase why I was the best candidate for the job rather than during an intense test-type interview.
The work culture at Puma is fantastic to learn from and although there is a structure, everyone is approachable and happy to help and teach you. This is so valuable when learning about an industry you may want to build your career in.
Tasks vary day-to-day, as you experience how a product is taken from concept to consumer. As a wholesale role, merchandising at Puma is more of a combination of the buying and merchandising roles taught at university, which allowed me to combine my strategic skills with my creative abilities, developing my skillset.
You are not treated as an intern but as a member of the team. Managers delegate specific tasks and responsibilities to you, such as digital catalogue creation; monthly retail reports; product set up and sample distribution.
So far, my favourite experience has been GoLive. Twice a year, Puma hold an event to launch the new collection to the rest of the team. This involves a selection of presentations, social activities, catwalks and workshops. This was the best part of the role because the merchandise team had been working on the product four months previous to the launch, so it is nice to see the products first hand and watch the other teams become as excited about the range as we are.
Although Cobra has been part of Puma prior to this launch, this was the first year that they joined in at GoLive which was fantastic as it meant that I got to see another side of the Puma vision.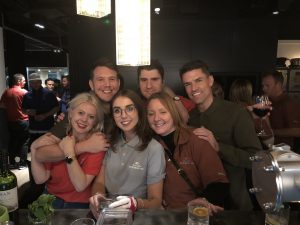 Relocating to London without any friends in the area was daunting and trying to find a flat in London was the biggest initial challenge connected to the role. However, I decided to be brave and take on the challenge of meeting new people! Luckily, I managed to find a lovely flat which is definitely adding to my experience at Puma.
As with any office role, becoming confident with the processes took a bit of time, as the role and the systems were all new to me.
The role, after only 5 months, has greatly boosted my determination to achieve my initial goal of working within the sportswear market. I have enjoyed working for a company that combines sports and fashion as it has enabled me to gain knowledge about both which will help me during my studies in my final year.
I am excited to go back to university, just so I can complete my degree and get back to working in the industry as I am loving my time at Puma.