Last week I read a news article about virtual internships and did some research around the subject to investigate if they are worthwhile.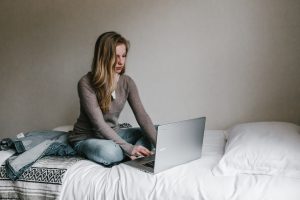 Virtual internships are relatively new and are becoming increasingly popular. They essentially allow you to get the valuable experience from an internship, from the comfort of your own home! Sounds great right?
These types of internships can be useful as they eliminate the need to commute to and from work, which can be both expensive and time-consuming. Not to mention the benefit it would bring to the people who do not have transport of their own. They can also be flexible as they can be carried out outside office hours, which would appeal to students still in education, in part time work and those who have other commitments.
However, what these internships lack is giving students and graduates exposure to working in a professional environment, allowing them to gain skills that cannot be taught in the classroom. These include general business etiquette and interpersonal skills. These skills definitely form an important aspect of a role that can affect the success of your job. We recently carried out research into the graduate recruitment market and found that 16% of graduates asked said they felt that, upon entering their first graduate role, they were most missing business/office skills such as multi-tasking, managing workflow, and professional skills. In addition to this, 16% of employers also said they thought the most valuable skill that graduates were missing were business/office skills.
This type of internship can also make communication between employer and employee very difficult which can be limiting in times of urgency. The lack of face-to-face interaction can also be quite isolating and lonely and potentially have an impact on your job security. In addition to this, the intern would have to completely rely on technology which would mean they must have access to up to date technology.  For many students and graduates starting out on a limited budget, reliable access to this type of costly technology is not guaranteed.
Whilst there are benefits to completing a virtual internship, there are more limitations. Depending on your situation, these internships could be beneficial, but it is important to understand the shortcomings of the internship to make sure you fully understand the process before you agree to anything. These internships are not likely to be offering you the skills and experience needed to get a job in the future. Our research showed that 21% of employers said their graduates were missing experience when they first started with them. Experience is not only gained in an internship, many transferable skills can be acquired via any job role which you complete while studying. This could be part time work, voluntary work or a more structured paid internship.