Amna is an associate with PwC – in 2015 she completed an internship with Manchester City Council.  Amna has recently graduated with a master's in International Relations and also completed a bachelor's in Business and Economics.
We recently caught up with Amna to reflect on her internship experience and how that might have influenced her career.
During university, Amna knew it was essential for her to gain experience, but she felt a placement year wasn't right for her as she was spending another year doing a Master's.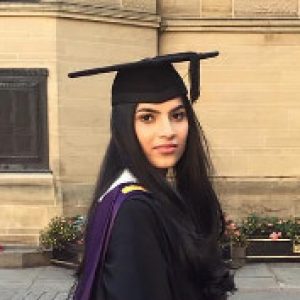 "I felt I would get the same value from a summer internship. At that stage, I wanted to go down many different career routes so I felt an internship would help me to make a decision on which direction to go down."
She also felt that her course hadn't given her the chance to use her skills practically.
"I really enjoyed studying Business and Economics at university, but I felt I never really got to put my skills to the test – there wasn't a practical element to the course."
"The internship with Manchester City Council allowed me to really put my skills to use and it helped me to further develop my analytical, research and writing skills which also helped when I went back to university."
Her experience has been beneficial for her role with PwC which she started in January.
"In the internship, I spoke to over 150 business owners across the city which improved my communication skills and I built many networks. This has helped with my role now as I started seeing clients right away so I felt confident in my role."
Amna works in the Tax department at PwC as an associate.
"I'm really enjoying my role with PwC, I'm already travelling to many different places which is great!"
"The role with PwC is based in Manchester, so it also helps that I know Manchester really well, being from here and having completed an internship with the local government".
For future interns, Amna had this advice:
"My internship helped me realise what skills I was missing. You can only learn so much from your course, you really don't know about working life until you are fully immersed in to it. I would advise students to get experience, in any form, whilst they are at university. You may have an idea of what you want to do, but you can never know for sure until you try it – an internship can be the perfect way to decide!"