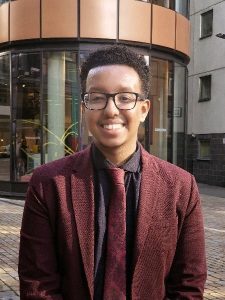 Manny, an undergraduate at the University of Southampton studying Computer science, undertook a 10-week Change and Technology summer internship at a boutique pensions investment company.
We recently caught up with him to find out how it went and what he's up to now.
Firstly, Manny said he had a positive experience working with Step, in particular the amount of communication he received from Step was very good. He felt with other recruitment agencies, his application often gets lost down a black hole. With Step he was always made aware of what stage he was at which made the process much more enjoyable.
The main project he got involved with was creating a prototype online checklist system which would be used by the operations and IT & data teams to organise what the individual team members day to day tasks were, particularly the tasks that were for the start of the day. The objective of this project was to implement this system across all sectors of the company. It also aimed to reduce the amount of paper used in the organisation and Implementing this system allowed a record to be stored for when tasks were complete and enabled managers to be more aware of their employees' performance.
The most valuable hard skill Manny gained from his internship was working with Microsoft 365 as this was the package mostly used to build the prototype, he also learned how to use a couple of work programming languages. He believes the experience he got during his internship will really help him get a job in the future.
The most valuable soft skill Manny gained was the awareness of how a big commercial company operates, and he believes he is now more prepared to begin his career after he completes his degree.
Overall, Manny enjoyed his internship, the most enjoyable things about it was the people that he worked with. Everyone was helpful in helping him learn and build his skills, making him comfortable and putting him at ease during his time working.
The main technical challenge he was faced with was when building the online checklist, he had to make it transferable to other sectors of the company and easy for them to be able to use and understand, therefore, he was only able to use Microsoft 365.
This was a challenge for him as he had been taught at university about other systems available, so he was already comfortable using these. Therefore, Manny had to move out of his comfort zones and use a technology that he wasn't used to.
Despite enjoying his internship in the financial sector and gaining invaluable experience, Manny has decided to keep his focus within the subject of his degree and said his ideal job would be a software engineer.