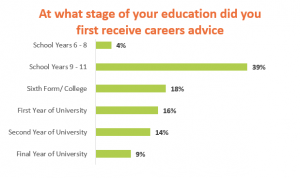 In a recent poll on our website, we asked visitors when they first received careers advice and were shocked to find that over half of respondents received no careers advice during their secondary education. As a business, we work closely with our local secondary Free School to host year 10 work experience and volunteer to give mock interviews to their young people. I know from this experience that there is little to no funding available and the Careers teacher will admit that she has no experience or training in the area of careers advice. And yet, the choices that children make at the GCSE stage, influence their A-Level choices which then influence their Higher Education choices.
Even more surprising was that almost 2 fifths of students didn't receive careers advice until they had arrived at university which is arguably too late when they have already committed to up to £50,000 of student debt.
So what does this mean to us as employers?
We can be quite critical of new graduates who "haven't got a clue" about where they are going. We expect them to commit to us for years when often, they don't have a clear plan.
During my 7 years working exclusively with students and graduates, I have adapted my approach to allow interviewees to explore where they are going without judging them or expecting too much. That's not to say that my expectations have lowered, they have changed. When a recent graduate says that they "just want a job", I don't take that to mean they aren't committed to working for my business. If a graduate misunderstands what their career path might be within the organisation they are applying for, I don't take that to mean that they haven't done their research and are therefore disinterested.
When interviewing young people entering the job market for the first time, be kind. It may be the first time that they have been pointed in the right direction and you could be the person to help them launch their careers.