So you've finished Uni yet you've not managed to secure that high paying, high flying graduate job that you were told about all the way through your studies? I know that it can often be dangled like a carrot in front of you, but in all honesty, you're not alone in this situation. I've been there too: the stressful time when you realise that the student life is over and the big bad world is actually quite difficult and scary! But what to do?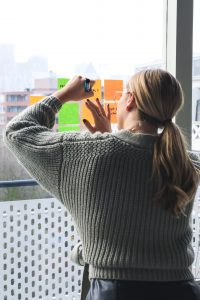 It might be that you've not landed your graduate job yet because you lack commercial experience, or it could be that you're not quite sure what you want to do. Don't fret though, there are many different options available to you, and one that is often little considered is to get experience as a graduate intern.
I know what you're thinking… "But I've just graduated, why should I do an internship?"
Your time as a graduate intern will give you some HUGE benefits that will make you stand out from the crowd. I've tried to keep this brief and have outlined the main benefits below:
• Paid
If you are on a Step graduate internship, you will receive a wage of at least national minimum wage.
• Foot in the door
Getting your foot in the door by undertaking a graduate internship can be a real benefit. Often, your graduate internship will lead to a full time position within your host company – did you know that over 85% of Step graduate internships turn into permanent roles!
• Experience
This should go without saying – you will get experience on many different levels, whether it be how to use IT in a business environment, genuine commercial experience or more, gaining industry specific skills and knowledge. On top of this, an internship is a good start to battle the catch 22 that you need experience to get a job, but no one seems to give you experience! Initially, an internship is your opportunity to develop your employability skills. This means you will have real world examples for competency-based questions at future interviews, which will ultimately help you secure a future graduate career.
• Industry experience
It is all very well that you have been at university for at least three years, but a graduate internship is an excellent way to gain commercial awareness and implement your learning in a real world industry environment. You may be able to offer current knowledge which may be very valuable to your host company, after all you have spent the last three or four years studying in the field and reading the latest texts and research. On the flip side, you may also learn any industry trends and issues that University might not have taught you.
• Contacts
Make it part of your internship to network with as many people as possible both in and out of your host company, as this could open up endless possibilities. You may make current industry contacts who could offer you a permanent job, recommend you to their best friend who just happens to be MD at a similar company, point you in the right direction moving forward, or at the very least they might check your CV is the best it can be for the sector.
• Try out a new sector / role
As well as gaining industry experience, an internship will allow you to try out a new sector or role. If you've done a business degree, and quite like the HR aspect, this could be your chance, or if you've done an engineering degree but would rather go into management, you could try a business focussed internship. Additionally, if you've always thought you wanted to be a marketer and have just completed your marketing degree, you can try different aspects of the marketing mix to find your best fit, whether it be online marketing or guerrilla marketing. The opportunities are endless!
• Learn soft skills
Starting out in the world of work can be a minefield after the years spent studying. By undertaking an internship, you can learn the soft skills needed whilst being in a supportive environment. This will range from office etiquette (don't waltz in at 9:05 eating an egg cob every day) to how to raise ideas and have a discussion in a team meeting.
So where do we fit in?
As you know, Step are a leading provider of student and graduate placements, internships and permanent graduate roles. We offer undergraduates and recent graduates a range of work experience opportunities. These can be either short term work placements, generally lasting from 8 – 12 weeks or longer term opportunities lasting between six and 12 months. All Step opportunities have a genuine development focus, are structured and often project based.
By registering with us you will have access to the range of opportunities on our website, and we will also be able to contact you directly should anything suitable arise.
With all this being said, don't delay, create your profile and apply for your graduate internship today!