Our guest blog is written by James Morgan, a Mechanical Engineering student from University of Exeter, who recently completed a Product Design Internship with Step at Brett Martin Daylight Systems; a leading manufacturer of roof light systems.
---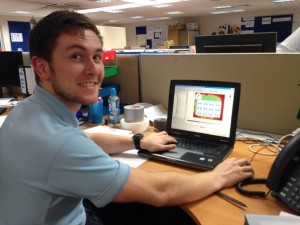 As a second year MEng Mechanical Engineering student, my last few terms have made me increasingly aware that one day, I'll need a job. With this in mind I decided I'd do a summer internship – I jumped straight on the band wagon of 'the bigger the company the better the experience' and began  targeting prestigious global organisations, not even considering working for a company whose logo was unfamiliar.
Until Step stepped in (ha ha), I was unaware of the benefits of working for a smaller company; yet during my internship I have been project managing two separate projects for two separate departments – this, added to the odd bit of extra side work, has kept me fully on my toes and I've loved every bit of it!
It all started with an online search – the Step application process was simple; I wrote a personal statement and clicked 'apply' on the job roles I was interested in. After this I expected to be left in the dark for a little while (many applications go this way), instead, I was promptly contacted by Ben who asked me a couple of questions and discussed with me what I was looking for – it was refreshing to feel valued. After some invaluable guidance from Ben, my applications were sent off – I ended up applying for two separate positions with the same company; Brett Martin Daylight Systems. One was a product design role and the other a research based project role. A short time after interviewing I received the fantastic news that I'd somehow managed to secure both job roles merged into one!
So I packed my bags and off I went to the Midlands for 8 weeks, not quite knowing what to expect.
My first week was focused on getting to know more about the company and the products they make – BMDS Ltd – part of the Brett Martin group – design, manufacture, sell, distribute and install roof lighting systems. There are about 200 people working in Coventry and the group employs around 800 people in total.
During the first week I was also introduced to all the staff and met with a very friendly reception while I started the ball rolling with my projects. By the second week I had settled in well, my projects were starting to take off and I was already learning a huge amount about project planning and management which really helped me build upon the experience I'd had during my university course when managing group projects. On top of this, Ian (one of my mentors) and I took the company car – which I was trusted to drive – to South Wales to visit a testing laboratory. All of this felt very important and the outcome of the trip was hugely successful; with the company we visited playing a big role throughout the research project.
I feel that over the short period of 8 weeks I completely settled into the company, learning nearly everyone's names and liaising between departments to get work done with ease. One of the most important skills in any workplace is communication – at BMDS there are a huge variety of different people, all of whom need to work together efficiently – clear communication and a good understanding of the capabilities and limitations of various departments is key to project success and this is a skill which I have built upon massively.
The outcomes of my placement have been very positive – the product design project had many obstacles thrown in its path but in the short time I had, I was able to work through various designs and tests to bring about a final design which is now in the long term testing phase. The project stakeholders and I are all confident that my design will allow a new premium product onto the market – potentially having a large impact on sales. As for the research project, tests are currently being carried out which will allow 3D design software to model light diffusion through a material, this tool will be used to provide customers with comparative visual information about our own and competitors' products.
To summarise; the knowledge and experience I've gained throughout my placement time will be invaluable for future projects and career paths and to make things even rosier, I've been offered the chance to come back and work for BMDS Ltd again next summer if I should wish to return; an offer I will be taking very seriously. In the words of Peter Bell (technical engineer) 'It's a shame you have two years of Uni left, we could've used someone like you right now'!
Thank you Step and BMDS!