Our guest blog is written by Chris Brooke, a Sports Engineering graduate from Sheffield Hallam University, who recently completed a Graduate Mechanical Design Engineer Internship with Step at TEW; an Engineering company that specialise in the automotive, rail and nuclear energy sector with 2014 marking their 100th year in business. 
---
After 3 years at university, and one degree in Sports Engineering later, I put education and jobs to the back of my mind and went to Asia – which was great. Until I came home to the reality of being unemployed while all my friends were at work. I was applying for countless design engineering jobs, and hearing nothing back, except for the occasional 'thank you, but no'.
I actually got really lucky finding Step. I visited Nottingham for the first time last winter and I liked the city, so I
searched "design engineering Nottingham" and a Step internship for a Mechanical Design Engineer with The TEW Group was at the top of the list. The application process was simple enough. I'm not going to lie, I didn't expect to hear anything back, but within a few hours Ben Dowse, the account manager at Step emailed me with some tips to improve my application.
To cut a long story short, after a lot of help from Ben to get me the interview, and the support of everyone at work during my internship, I went from a shop assistant on a 5 hour contract to a full time design engineer in the space of 3 months.
The division of The TEW Group I work for is called Industrial Automation. They design and build custom machines. From the day I started I was actively involved with helping the designers. Even during the first weeks of my internship I was seeing parts I designed get fitted onto the machines.
During the internship I was sent on a design training course. I was given a car and booked into a nice hotel – it was such a good week. I gained a lot of confidence from the course, and it looks really good on my CV.
The internship didn't follow a set path. My line managers Paul and Martyn helped me progress at a comfortable speed. I don't have a daily routine. I could spend a day on one design. Or I could be juggling multiple jobs and attending project meetings all in one morning.
My degree helped me with my internship. I feel like I had a good base as I already had a grasp of engineering design from uni. I got to put design techniques I learnt into practice in the work place for the first time. Although I had some engineering knowledge, most of the stuff was totally new to me, which the company understood.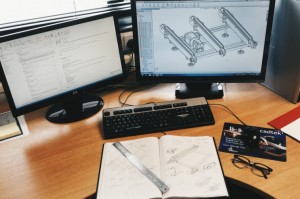 The highlight of the internship was getting my first machine to design. It was daunting seeing my name as design engineer for a project – I felt out of my depth. But it showed how far I came during my internship.
The people at work are great. We play football, we have been out for drinks, and even if they do give me stick for my accent (I'm from the North East) they have made me feel welcome and I'm looking forward to continuing with the company.