Here at Step, it is important to us that as a team we use our personal free time to help make a difference to issues we feel strongly about. Step are committed to supporting social mobility and over the past 30 years we have provided equality of opportunity to all students who have the desire to secure meaningful paid work experience.
Supporting The 1-Hour Project & Social Mobility

A charity that is actively taking steps to improve the social mobility of students is the 1-hour project. The 1-hour project is on a mission to positively impact 1000+ students, who are first in family to go to university from racially diverse backgrounds by building professional networks. Industry experts donate an hour of their time to help students from less advantaged backgrounds who typically have limited access to professional networks. This will help to level the playing field and build confidence to ensure all students achieve their full potential. The 1-hour project aligned perfectly with our values and following a meeting with them we were keen to get involved and support in whatever capacity we could as a business.
The Step Social Mobility Challenge
We decided to arrange a fundraising event and with the team wanting to become more active, we thought what better way than to set ourselves a team walking challenge. Originally set the target of 1.5 million steps in June to help raise money for the 1-hour project, however a few days in we decided to increase the target to really push ourselves! We are now aiming to complete 2 million steps between the team in June to raise funds for this amazing cause. As you can see on the whiteboard, we are a competitive bunch and are all enjoying the challenge!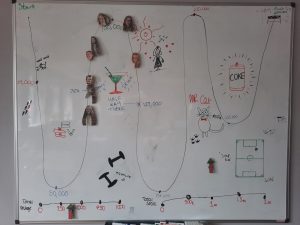 We want to help contribute to the project costs to make the 1-hour project more sustainable. The team at the 1-hour project is currently fully funded by volunteers and therefore they require further funding to go beyond the first 1,000 hours set. Any donations would be extremely appreciated to help this charity support more disadvantaged students.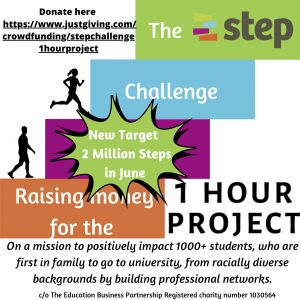 Donations can be made on our Justgiving page.
If you are a student that would like to access this project, please click here to register.
If you are an industry expert and would like to donate an hour of your time, please click here to register.