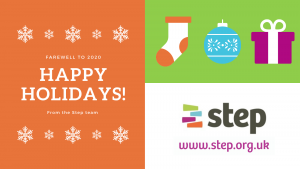 We would like to extend our thanks to all our clients who have supported both Step and our community of enterprising students and graduates throughout this incredibly difficult year. There were times when the future looked uncertain but thanks to your support, we will start 2021 in excellent shape to continue Bringing Business and Graduates Together.
After a year when everyone's plans have been put on hold, now is the time to start planning for 2021. We are already accepting briefs for Summer Internship programmes and Sandwich Placements for the coming year.
Register your opportunity here 
And don't forget we operate all year round finding graduates for Permanent roles so there's no need to wait until the next academic cycle, we can accept your brief at any time. We will be here until Tuesday the 22nd of December and back on Monday the 4th of January.