GCSE exams became linear several years ago with a new numerical grading system from 9 (best) to 1 and have now changed again, with revised and often harder exam questions. The ever-changing system can provide much confusion for employers when looking to employ students or graduates.
Further changes to Level 3 qualifications were suggested in the Summer of 2022. The Department of Education confirmed that apprenticeships, A-levels and T-levels – new, two-year technical courses which are the equivalent of three A-levels – will become the main options for pupils in England after GCSEs from 2025.
BTECs are suggested to be scrapped and replaced instead with T-Levels. BTECs are vocational qualifications taken after GCSEs, providing work-based skills in a range of areas such as healthcare, business, and engineering. It is estimated that at least 30% of 16 to 18-year-olds studying for a Level 3 qualification in England (the equivalent of A-levels) are doing vocational qualifications such as BTECs. This equates to around 259,291 young people. The move to T-levels has been somewhat controversial as education leaders warned the scrapping of BTECs would be "reckless", as it will ultimately harm the prospects of poorer pupils, with the most disadvantaged students suffering.
T-levels are the new intense technical vocational qualifications introduced by the government to meet the demands of various industries that require a highly skilled and practical workforce. They are designed to develop the necessary skills and knowledge to enter employment within industries such as engineering, IT, construction, healthcare and more.
As an employer, how does this affect me?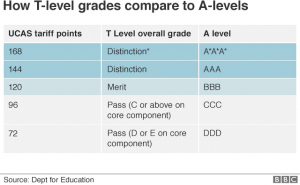 The new system, which has been given the green light will be phased in between 2023 and 2025. This means employers will no longer be looking for BTEC on applicants' CVs, students will instead have T-levels. Employers need to be aware that 3 DDD for both T-level and BTECs are not the same grades for at A-level. DDD is a triple distinction not 'D' grade and are instead equivalent to AAA which can catch some employers out. Remember, to always ask if you're unsure about student's grades or qualifications so you don't miss out on great candidates!