There is a misconception that graduates come into the business lacking work experience and are hard work to get up to speed. However, most of the students we work with have already attained work experience, through part time jobs whilst studying, internships or a yearlong sandwich placement. Of course, they would still need to continue learning but they will be able to contribute to the business from day one.  
Skills they can bring: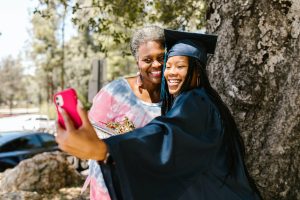 With innovation often being a key driver of business growth for many businesses, graduates can provide the fresh ideas through their desire and energy within the role. They can develop new solutions to old problems that could change the way the business operates. Successful innovation requires individuals to deploy a variety of technical, cognitive, and interpersonal skills as well as a range of competencies which would have been developed through higher education.  
Even though graduates/students are seen as a clean slate (as they can be trained and moulded how the employer likes) they still are likely to challenge and question the way of doing things. This has the potential to open the eyes of other employees and bring new ideas/ways of performing tasks within the business. 

 
With a lot of graduates not knowing what they want to do after they graduate, they are able to adapt to changes and new situations. With many degree types not having a vocational route after university, some students may have chosen their subject area based on what they have a passion for. They could have since studied it and decided that their ambitions or skills lie elsewhere. 

 

With Covid-19 also affecting the delivery of education for recent graduates/students, they have had to adapt and adjust to new ways of working. Recent graduates have developed their independent learning skills in challenging times. This skill can then be taken forward and developed within the workplace.  

 

Graduates have often learnt and developed their business skills through their experiences while studying and working. Skills such as teamwork, written/oral communication, problem solving, presenting and organisation. These can all help a graduate settle in and get up to speed with the organisation's ways of working. 

 
A graduate opportunity doesn't need to have graduate within the title, nor does it need to be ring-fenced for graduate applications only. It could simply be a comment along the lines of 'Graduate applications welcome' this will let graduates know that when they are applying, their application isn't going to be disregarded.  
Writing a long list of skills that the candidate needs to have experience in, would make a graduate doubt if they should apply for the role. Before writing these in the advertisement, could they be learnt on the job? Are core skills more important?  
Finally, giving an opportunity to a young person and the chance to grow your business could be beneficial for both parties in the long run when it comes to success.  
So, next time you have an opportunity please consider whether it may be suitable for a graduate; by doing this you can widen the pool of possible candidates where you could find the next valued team member who might not have been considered otherwise.