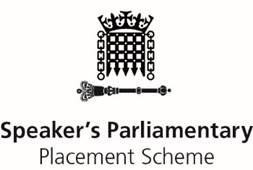 The Speaker's Parliamentary Placement Scheme believes Parliament should be accessible to everyone. It is widening access by offering a 9-month paid placement to people who have the skills, passion and potential to work there but don't have access to the traditional routes in.

The 2020/21 scheme should be open in the spring.

If you are interested make sure you register now and follow our social media channels for updates.

Any questions? Please email hofc@step.org.uk





The Speaker's Parliamentary Placement Scheme starts at the end of September each year and lasts 9 months.
There are 13 positions available with MPs from different political parties; three of these spaces are allocated for participants with disabilities. The Scheme is open to people from all walks of life across the UK. In previous years, successful candidates have ranged from school leavers, to those in their mid-50s, and people who have moved to London from many different parts of the UK. Successful candidates will spend their time getting to understand parliament by working with an MP in their Westminster office from Monday – Friday. Each participant will be assigned a buddy at the beginning of their placement who works in a role within the House of Commons to help them settle in and navigate into life at Parliament.
The scheme also provides interns with:
a chance to find out how business interacts with politics and to learn more about different career paths through a series of workplace away days hosted by corporate partners in professions such as law, insurance, engineering and the automotive industry.
Throughout the duration of the scheme masterclasses are arranged for all participants covering topics such as confidence, public speaking, goal setting and time management;
Each participant receives a personal career coach to help find employment at the end of the scheme.
The aim is to equip participants with the skills and knowledge necessary to secure full-time employment after the scheme. Many of the interns previously on the scheme still work in the House of Commons as Parliamentary Assistants or in other departments. The Scheme is due to start on the 30th September 2019.  During the first week, successful candidates will be provided introductory sessions and skills development sessions.
Successful candidates will need to complete a comprehensive security check in order to gain full access to Parliament.
The Speaker's Parliamentary Placement Scheme welcomes enquiries and applications from everyone who does not have access to the traditional routes into Parliament. Black, Asian, Minority Ethnic people and those with disabilities are currently underrepresented and are encouraged to apply.
Step and the House of Commons are Disability Confident Committed employers. The House of Commons is a Guaranteed Interview Employer.  If you require any additional assistance or adjustments during the application or interview process, please get in touch with Tamsin Millns on 0115 8718740 or email HofC@step.org.uk
PLEASE NOTE: Applicants may be chosen to work for MPs across all political parties so whilst you may have a political allegiance, you may well need to set this aside as you may be working for an MP who represents a different party.
Eligibility
Applicants must be eligible to work in the UK and / or hold a valid visa to cover the duration of the internship (September 2019 – July 2020).
Security
Successful candidates will be required to complete pre-employment checks which include security vetting to Counter Terrorist Check (CTC) level. Applicants who have resided outside of the UK for a total of more than two of the last five years are not usually eligible for vetting.
If you have any questions on any of the Speaker's Parliamentary Placement Scheme opportunities
Contact Tamsin
Current opportunities