Today's guest blog was written by Emma Lydon a Fashion Communication graduate from The University of the Creative Arts in Epsom who took on an internship as a Digital Marketing Assistant with Katy Sue Designs.
She has recently been taken on permanently by the company.
---
My Step Placement experience started when I stumbled across an advert for a Digital Marketing Assistant on Indeed. I had graduated a year previously with a BA Hons in Fashion Communication from the University of the Creative Arts in Epsom (that's just outside of London FYI). I'd moved back home to just outside of Newcastle because I missed my family and I'd found that London life just wasn't for me.
After being unemployed for a couple of months I found myself working in retail and before I knew it 6 months had passed! I'd given up on a graduate career without realising it. It was only when one of my friends from university asked me how my job search was going, I realised that I'd grown complacent.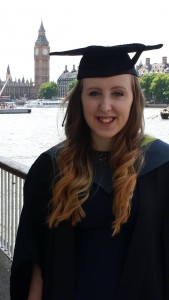 So, back to the grind… Back to constantly applying for jobs and getting nowhere, like before.  I'll start off slowly, I thought. I'll just see if there's anything at all relevant out there right now and see how it goes. You can probably tell that I wasn't very optimistic, but then lo and behold almost the first job advertisement I clicked on sounded perfect!
The role is with a company called Katy Sue Designs who manufacture craft and cake decorating products. I'd been brought up in a very crafty household, the sort with shelves teaming with paper, stencils, stamps and double sided sticky tape (it's invaluable, trust me!) We're also the sort of family that makes home-made cakes for special occasions (like birthdays and Fridays), and I've always preferred baking than cooking!
I know I was really lucky to get this placement. It was the first job I'd applied for in months so I went into the application process and interview stages with low expectations. I was excited just to have the experience of an interview again and I think this helped me to be less nervous!
I still can't believe how perfect the job is for me
It's close to where I live, which means NO MOVING BACK TO LONDON!! (Sorry university friends, I know you'll all miss me dearly.)
Social media marketing is a big part of my work here at KSD. And I've been fortunate enough to be left in control of 5 accounts. I'm also re-launching the blog soon. It's all exciting stuff (well, to me, at least!) and because I have to research and schedule content ahead of time I actually get to read baking blogs and look at DIYs on Pinterest daily. Yes I get paid to do this… I couldn't be happier!
I also get on well with the whole team, and it's such a cliché to say "everyone is really nice" (which I have found myself saying repeatedly to family and friends) but it's true. I'm about half way through my placement now, the time has flown by. Fingers crossed I get to stay past my 12 weeks as I have lots of ideas and seemingly no time to implement them!