Who is Vasili?
Vasilii Urenev completed a Master's in Electrical Power Engineering with Industrial Practice at the University of Greenwich. He already had a Bachelor of Science in Electrical Engineering and Technologies from Gubkin Russian State University of Oil and Gas, Moscow, Russia.
He was one of our exceptional students from the September 2020 cohort. He proactively and diligently took the decision of finding a placement into his hands, while attending lectures and Step workshops. He started searching for a placement in January 2021 and found the job vacancy at Eaton via LinkedIn and applied in May.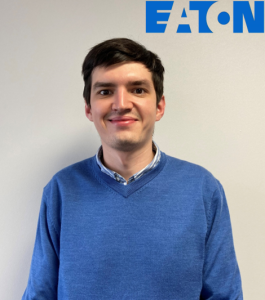 Vasilii found that when applying for a placement starting early, researching the company, and tailoring CVs to the job description plays an important role in securing a placement. As well as, applying for many positions that relate to the course, not waiting for positive feedback from every company, and being professional at interviews. Remember to be patient, securing a placement may take some time.
"The job title does not always say a lot about the job, read through the job description and skills required to get more information on what the job role entails"- Vasilii
Eaton Electrical Products Limited
After a difficult applications and interview process, he successfully secured a placement as a Field Applications Engineer at Eaton Electrical Products Limited in June. The company willingly waited until the university approved the placement start date.
The job he found at Eaton was not initially a placement job, he explained the concept of a placement to the company, summarising as follows:
he was doing a masters with industrial practice and needed to find a job for a minimum of 36 weeks to satisfy the placement element of this course.
he was an international student being sponsored by the University of Greenwich for the length of his placement and once that ends, he can apply for a Post Study Work Visa valid for 2 years. Therefore, he could work for up to 3 years without the company sponsoring him.
His role was a combination of engineering, technical, commercial and project management, having the opportunity to communicate with the global team. The modules that helped him whilst on placement were Smart Grids and Sustainability, Power Electronic Converters, and Power Systems Analysis.
In May 2022, his manager let him know that Eaton will offer him a permanent job and a visa sponsorship.
Vasilii's advice to students
Do your own research,
Prepare your documents,
Seek for advice if needed, do not be silent, and
Do not wait until last minute