Who is Bharat?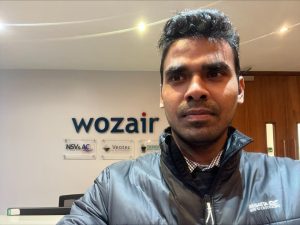 Bharat Yadav completed a Masters' in mechanical and Manufacturing with Industrial Practice at the University of Greenwich. He already had a Bachelor of Technology in Mechanical Engineering from Visvesvaraya Technological University, India. He successfully secured a placement as a Student Proposals Engineer at Wozair Limited in October 2021.  
Wozair are HVAC specialist within the Nuclear, Oil & Gas, Renewables, Energy and Marine industries, based in Gillingham, Kent. 
Interview
We recently interviewed Bharat about his experience.

 
Bharat started searching for his placement in January 2021. He worked closely with Step and the university employability team. Step supported Bharat with CV and cover letter preparation, tips on how to approach companies and how to present himself to companies. He did a lot of personal research, applied to numerous companies, for example, Transport For London (TFL), Pfizer, British sewer companies and tried going into companies in person, but was unsuccessful in this approach due to COVID-19 restrictions. He kept track of his applications by making a list of all the companies he applied to with the contact's name, number and email address, date he applied. He did most of his search on LinkedIn, which proved positive because one of his contacts informed him about Wozair. 
What kept Bharat going was, "always being in a positive spirit when applying for jobs whether the response was good or bad". He was resilient and determined throughout his search for a placement. He got a lot of rejections, but he kept applying. 
 His placement was an office-based job which involved preparing quotations, having technical knowledge of the products and interacting with other departments e.g. project, design, R&D. His team was the contact point between customers and the company. 
"Working at Wozair was an unimaginable experience, it was a nice and peaceful environment, no stress nor tension and the people were easy to communicate with. The placement was a first-class experience, and it met his expectations"- Bharat.  
He enjoyed working with a company that had outreach programs that benefitted children in the community. 
The modules that really helped during his placement: Advanced Thermo-fluid Applications- Thermal Dynamics and Process Improvement Techniques 
His advice to students: 
Get your CV ready and interact with the university and Step team – they are here to help! 
Grow your LinkedIn network 
Start searching early and conduct thorough research before applying to companies 
Know exactly what you are looking for and do your research yourself, based on what you are looking for. 
Follow up on applications 
Most important of all be patient and be enthusiastic to learn! As a result of his excellence performance at Wozair Limited, Bharat has been offered a full-time job as a Proposal Coordinator with visa sponsorship, and a promotion to Proposal Engineer in time.