Nilupa Weerakkody was one of our successful placement students from the September 2022 cohort, here Is why.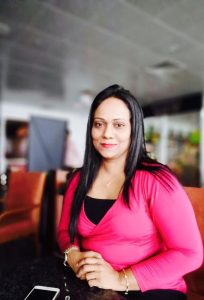 Nilupa enrolled at the University of Greenwich for a Master's in Applied Food Safety and Quality Management (AFSQM) with Industrial Practice. She started her placement search August/September 2021 after completing her laboratory-based research project on PCBs in Fish oils.
Whilst completing her project, she took the advice of the step team to update her LinkedIn and upload her CV on jobsites. As a result, her cv and LinkedIn profile attracted a recruiter for Greenhalgh's Craft bakery, were she secured a permanent position as a Technical Auditor (Costa) to fulfil her placement criteria and remain with them afterwards.
The Step Team supported Nilupa throughout the whole process by delivering workshops, sharing jobs, and reaching out to the company to explain the visa situation. Tips she got from the Step interview workshops helped the preparation for the interview that secured her the role.
During her taught year as an AFSQM student, she took the following modules which helped her excel as a Technical Auditor:
Food Safety and Quality Management: Auditing Skills
Food Microbiology
Food Authenticity and Traceability
HACCAP Level 3 training
Greenhalgh's Craft Bakery is a BRC accredited company, which was an opportunity for Nilupa, and as part of the technical team, she got to maintain the food quality and standards, and experience facing auditors. Her efforts over the year alongside the rest of the company gained Greenhalgh's a BRC AA accreditation.
Her role involved
monthly GMP and glass & plastic audits,
handling customer complaints,
raising nonconformities and corrective action,
creating traceability worksheets and quality attribute sheets for new product launches, and
weekly calibration of fridge, freezers, probes, and scales.
Over the months, her job description expanded to include specifications, which involves dealing with suppliers and taste panels. During her placement, there was a Colour Fading problem with icing on shortcakes. The previous solution was the use of Titanium dioxide, which was banned in September 2022, so she decided to research a solution to the problem. Her solution was the use of EDTA, also referred to as edetic acid. As a result, she became Employee of the month in May 2022 (she was the first from the technical department to get employee of the month)
Nilupa's advice to students:
Attend and Participate with all STEP workshops
Adhere to advice given by STEP
Update your LinkedIn profile
Do your own research for placement opportunities
"MSc with Industrial Practice has more weight and I benefitted from it"- Nilupa